Mauricio Kagel, an Argentinian-German composer who passed less then a decade ago, was a pioneer of the hardly official genre Theatre Music. Most of his compositions are a journey through absurd scenarios and surreal situations. Although he did compose traditional music as well, he is mostly known for pieces which deal with the surroundings of music more than with music itself. The result is often both amusing and disturbing – therefore I was not surprised to find out while reading about him, that he was a true intellectual, a man of values and rare wisdom. Kagel, who was brought up in a Jewish family and raised in Argentina, immigrated to Germany 12 years after the end of the war. When asked about this transition and those first years in post-war Germany, he often talked about art and cultural achievements as being the only ones capable of outlasting the horrific events of the past.
His works are widely interpreted as dealing with communication and social identities, and often have very little to do, if at all, with traditional instruments. A few years ago I had my first experience with Kagel, performing Pas de cinq (1965) with my fellow IEMA musicians: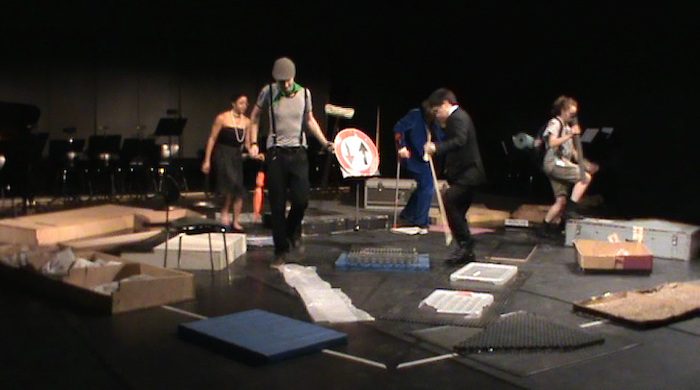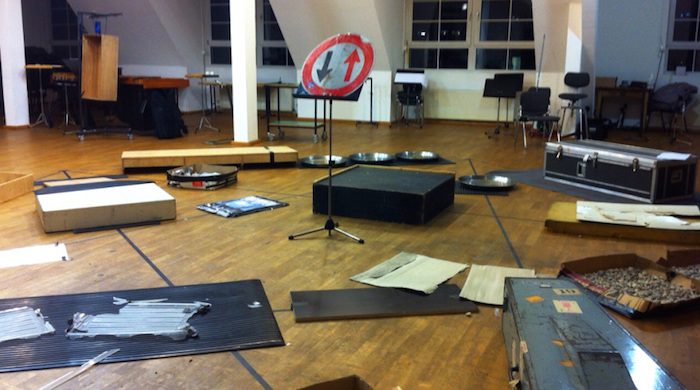 Following the score, we each had to invent for ourselves a new identity. No more: "Hi, my name is Daniela and I'm a cellist". We each had to posses a character; and this character had to hold a stick. You might recognise me in the picture – I turned myself into a devoted hiker. Then we had to build our stage: a pentagon shaped structure made of a variety of materials we chose – materials which would become our musical instruments.
The score is written for five performers. Each performer is given a starting point on the pentagon structure, and a lane to walk on – something like a map. Rhythmical patterns are given to each performer; using two feet and a stick, the performers need to walk their path while playing their parts. Percussive sounds are made when the performers step on the materials covering the floor. I played the piece with Alex (who normally plays the bassoon), Rike (trumpet), Ashleigh (viola) and Yutaka (violin). As instructed, we interacted on stage, allowed our invented characters to communicate and affect each other while playing our individual parts. Working on this piece was one of the most surprising challenges I ever enjoyed. We performed Pas de cinq in several venues, but unfortunately no video documentation was made.
I love this performance by Ensemble Intercontemporain (though I do think there is more place for humour than given here):
Pas de cinq is a work which deals with structures, rhythms, sounds, noises; it uses traditional music writing, choreography and theatrical instructions to create a scenario, which can be interpreted with vocabularies of different disciplines. This is true for so many of Kagel's pieces, which is probably why his span of work is often considered as communication-related experiences.
In a conversation with Max Nyffeler, Kagel talks about his sceptical feeling towards interviews. With great sensitivity, he describes the difficulties of human communication:
"A lot of trust is needed to talk about oneself seriously, and one can't just produce this trust at the drop of a hat. If one wants to go into the reason for things, then one needs time, and even more than that: one needs to forget that time is steadily ticking by. In almost every conversation there are natural barriers to overcome. For instance, Stravinsky's interviews with Robert Craft are interesting because Craft managed to get Stravinsky to enhance serious insights yet further with his wonderful sense of humour. And it really doesn't matter that the conversations were edited afterwards. To publish the original statements without editing is a sin, because the written word calls for a concentration of discursive that isn't at all necessary when one is talking. Trust can probably only arise when one meets often, and the conversation is intellectually stimulating for both partners. And of course, fairness comes into it too."
I must agree – talking to people is not always simple. Even though some people might find it easier than others, a conversation is always, and inevitably, a potential failure: a failure to truly understand the person with whom we are talking. In his work, Kagel plays with the fascinating tension between communication and identity. Works like Pas de cinq make you dive into such thoughts because of their absurdity; because they throw you into a strange world where communication becomes a question of creativity.
It's like having a conversation without first choosing the language.